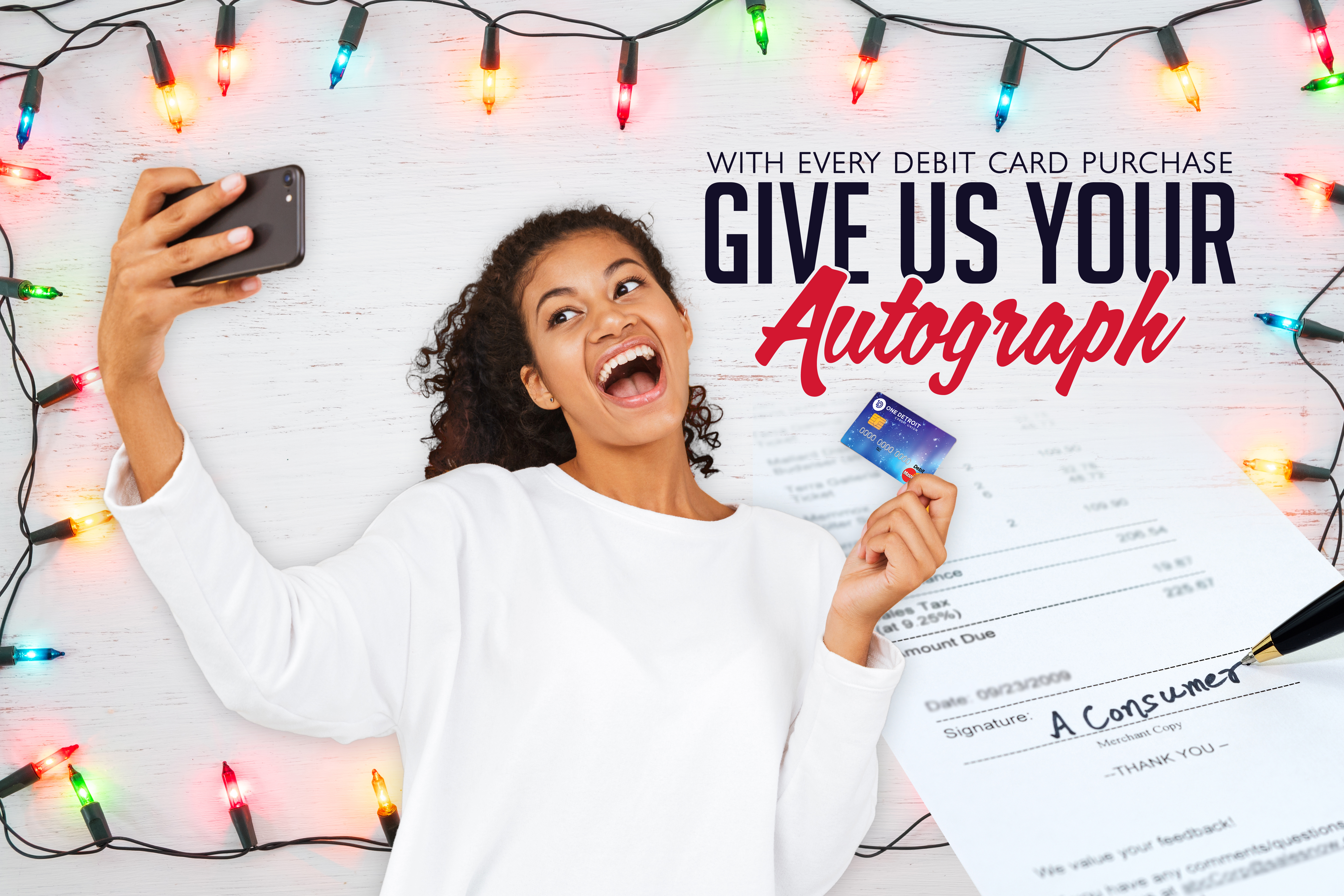 Give Us Your Autograph
With Every Debit Card Purchase
We're giving away an iPad Mini!
Throughout December and January, whenever you make a chip and signature purchase with your 1DCU Mastercard debit card, you'll automatically be entered to win one of five prizes, including an iPad Mini.
One winner will receive an iPad Mini.
Two winners will receive a $100 gift card.
Two winners will receive a $50 gift card.
To enter, simply insert your chip, tap "credit" on the card terminal, then sign for your purchase.
All signature-based debit card purchases made between December 1, 2018 to January 31, 2019 will be eligible. The more times you insert your chip and sign, the more entries you'll receive.
Winners will be selected by February 15, 2019 and notified by phone by February 28, 2019. All signature-based debit card purchases during the contest period are eligible for the drawing. Purchases made using a PIN, ATM transactions and ACH transfers do not qualify for entry. Must be 18 years of age or older to enter.
NO PURCHASE NECESSARY TO ENTER OR WIN. A PURCHASE DOES NOT INCREASE YOUR CHANCE OF WINNING. Void where prohibited. Click here for Official Rules.
---
Benefits of a Debit Card
Why this is the one card you should carry in your wallet.
1. Debt-Free
Unless you overdraw your account, you'll never get hit with interest, late payment fees, or carry a balance the way you could with a credit card. This makes it easier to control spending and manage your money.
2. Secure Payments
Using a debit card is more secure than cash or checks. Our debit cards are equipped with an electronic chip for an added layer of fraud prevention so you can shop and pay bills with peace of mind.
3. Versatile Spending
If you carry only one card in your wallet, a debit card is a smart choice. You can use it the same way you would use a credit card for purchases online and in person, but you can also use it as an ATM card for immediate withdrawals of cash.
4. Accepted Almost Everywhere
Use your 1DCU debit card almost anywhere Mastercard is accepted, whether you're shopping for holiday gifts, booking travel, or paying your bills. You can use it online, in person, over the phone or in mobile apps.
---
Important Information
Please note there is a limit of $800.00 that can be withdrawn from ATM machines per 24 hours.
What's the difference between Available Balance and Actual Balance?
Available Balance is the amount available to spend in your account. Your Actual Balance may include transactions which have not yet posted.
For example, if your Available Balance is $100 and you use your card at a store for a $35 purchase, a hold for that amount is placed on the account and the Available Balance will be reduced to $65. The Actual Balance will remain at $100 because the transaction has not yet posted to your account.
When you make a PIN-based transaction, the funds are immediately withdrawn from your account, but with signature-based purchases your account will show a pending transaction until the funds clear. Your Actual Balance may be higher than your Available Balance until the pending transaction clears.
Which balance does 1DCU use when determining overdrafts?
We use Available Balance to determine when an account is overdrawn. Please be sure to monitor your Available Balance anytime you make signature-based purchases with your debit card to avoid overdraft fees.
How can I check my balance?
Our online banking and mobile app, One2GO, gives you easy access to your account balance and tons of other features 24 hours a day. Visit Online.OneDetroitCU.org/enroll to get started.