Why did we change our name to One Detroit Credit Union?
In 1935, we were formed as the Detroit Newspaper Industrial Credit Union, to serve people who worked in the newspaper industry. In the 1970s, we changed our name to be more inclusive of industries such as radio, television, printing, and publishing. We chose Communicating Arts Credit Union, the name most of us associate with our credit union.
In 2008, as other financial institutions fled Detroit, we expanded our scope to help fill the financial services gap. Though we will never forget our roots in communicating arts industry, we have grown to include all people in our mission. Whether you live in Highland Park or Dearborn—we know you carry the Spirit of Detroit with you, just as we do.
We have adopted a new name that represents our blended membership base. We are altogether One Detroit.
What is the meaning behind the logo?
Our new logo represents our blended membership base. It brings together the '1' and the 'D' on a solid line marking our unified path to financial empowerment.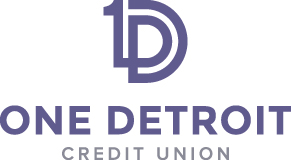 Was the credit union sold or merged with another financial institution?
No. We have chosen to change our name so that it better reflects our expanded member base. This decision was made by your elected Board of Directors and the management team of the Credit Union — the same people who continue to serve in those positions today. You will still see the same faces in our branches, hear the same voices on the phone and enjoy the same level of service you have come to expect from the credit union.
Is anything else changing at the credit union?
Everything you have come to love about the credit union will be staying the same. As we complete this name change, you will see some cosmetic updates in our branches including new signs and color scheme. One Detroit Credit Union is simply an evolution of everything our members love about the credit union.
Are my deposits still federally insured?
Your accounts are still insured by the full faith and credit of the U.S. Government through the NCUA — National Credit Union Association. As always, each individual account at the credit union is insured up to $250,000.
Is there anything that I need to do, because the name has changed?
No. There should be little impact to you as a member. Your member number and account number(s) will remain the same, as will all of your products and services.
Will my member number(s) change?
Your member number(s) and account number(s) will remain the same. There will be no changes to any existing accounts.
Will the credit union's routing number change?
Our Routing and Transit number will remain the same.
Will I need to order a new Debit/ATM or Credit Card?
No, your current card will continue to work. In the future you will receive a new replacement card with our new name and logo.
Important Note: Although your card number(s) will remain the same, the expiration date and Security Code will change so please be sure to update any reoccurring payments that are automatically charged to your card(s).
Do I need to change my direct deposit or automatic payments?
All direct deposits, payroll deductions, automatic drafts and other ACH services are transmitted using the Credit Union's Routing and Transit number and your account number. Since these numbers have not changed, your payments should process without any change on your part.
Contact Us
Call Center: 313-965-8640
Visit us at our locations:
Downtown
630 Howard St.
Detroit, MI 48232
Mack Avenue
14740 Mack Ave.
Detroit, MI 48215
Highland Park
15123 Woodward Ave.
Highland Park, MI 48203